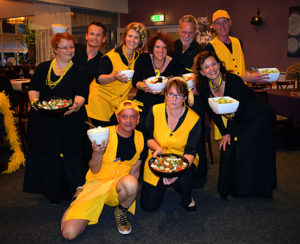 And now you'd like to know the price. Very important info indeed!
We charge for a full evening or afternoon (4 hours) with 4 Singing Waiters & DJ/technician € 1650,-
For 3 Singing Waiters during 3 hours, we charge € 1350,- incl Sound and DJ/technician.
(All prices are excl. tax and travel expenses. Click here for the conditions)
There are other possibilities if your party does nog take that long.
Because: every person, every party and every location is unique! That's why we'd like to come in contact with you, so we can discuss your party and wishes.
So grab that phone and call our advisor on +31611419426.
Would you rather write or e-mail us? Then please use our contactform below or send us an e-mail at info@zingendeobers.nl
Do you know our what we offer?
Professional singers with tons of experience, who know how to make every event to a success!